Where print is a religion, the art book is celebrated by its most ardent followers at the Los Angeles Art Book Fair.
Print publishing can, at times, have the appearances of a religion. It rewards only the truly faithful, and takes a certain amount of that faith to counter the daily secular headlines that "print is dead." To print non-commercially is to believe in something that only exists by dint of that belief. In that sense, much of independent publishing is religious art.
If print is a religion, then the art book is a monastery. This is print material made for the sake of itself–and not to be confused with an artist catalog or a coffee table book. These are zines, handmade books, experimental comics, and pamphlets; books which eschew commercialization and can only be described as labors of love.
This past weekend saw the second annual pilgrimage to the MOCA Geffen by the LA Art Book Fair, presented by Printed Matter. Here, some of the more extreme sectarians of print media converge, to talk about art without industry, and in spite of design. With its New York counterpart at MOMA's PS1 now entering its ninth year, the Art Book Fair has gained recognition as an art fair plain for the people, and by some accounts, even more important in its populism because it avoids the pitfalls of indsutry. From The Los Angeles Review of Books:
e-flux editor Anton Vidokle hazarded an interesting thesis: that Printed Matter's art book fairs of recent years have grown to be more stimulating engagements than major art fairs because exhibitors at the book fairs are mere hobbyists rather than professionals, at best breaking even (more often losing money) on their various micro printing operations.
This year, many of the exhibitors at the fair were also part of a Queer Zine exhibition curated by fair director Shannon Michael Cane (Printed Matter), and culminated in a collected box set edition of its history in two volumes.
As an importer of self-published comics and comics art from Japan, I had the privilege of exhibiting in the zine gallery, "(Xe)rox, Paper & Scissors," and found the culmination of independent publishers and self-published artists brought out by its nature, a certain obsession, a certain duty, to subject matter that would otherwise be for nought. And finally, these zines expose the practical beauty of publishing art: in its accessibility, it makes the art not just precious, but easy to disseminate.
As the editor of this site, it was enlightening to meet the different publishers of architecture and infrastructure concerns, including works made available for free or at suggested donation, under the auspices of open publishing. One of the more radical models was perhaps Temporary Services, which publishes free and low-priced booklets, including the Self-Reliance Library, described on the site as follows:
The collection consists of over 80 books about visionary architecture, desperate or wildly imaginative mobility, miniature buildings and nomadic living, self-publishing and design, skill sharing, everyday repair solutions, running a music venue, spaces for parenthood, toys and design for children, ecologically sound living, foraging, blueprints for fantasy worlds and alternate realities, pranks and mischief, technologies used in prisons and other restrictive or impoverished settings, survivalism, weapons for self-defense or recreation, and creative approaches to living radically.
What's most astonishing about Temporary Services is that while its mission is radical, it has not been at the expense of design, which can sometimes be ignored as a bourgeois byproduct. Temporary Services crossed our paths by way of introduction by another publisher of architecture-as-art we encountered at the fair: Soberscove Press, out of Chicago, which featured works about urban interventions like The Farm, "located at the edge of William Pereira's California Brutalist campus," and the subject of the documentary book and film, "Learning By Doing At The Farm."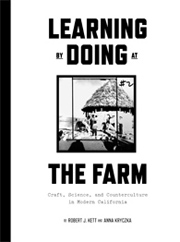 Other architecture concerns present included Pin-Up magazine, whose latest issue features an introduction to Paperhouses, and Cabinet Magazine, whose latest issue features a fascinating article about John Adolphus Etzler, an engineer who authored a blueprint for utopia in the tropics and founded The Tropical Emmigration Society.
If publishing is a religions, finally, events like the LA Art Book Fair function as a revival. Exhibitors we spoke with agreed the value in this event may not have necessarily been to make money, of course, but worth every lost penny to time spent in comraderie, commiseration, and community.