Architecture is a process we engage in by being alive.
Reading up on Angelo Bucci's previously recorded statements about architecture, I learned he waxes from prescription to metaphor quite poetically–"to know the world of life one needs to turn off the lights. It is probably in a dark spot, walking the streets, that we the people meet, talk, and support one another as if they truly believed that life is possible in the future." And so I was excited to speak with him about the dichotomies of architecture; academic versus professional, town versus country, big versus small. However through conversation I discover Bucci's is a dialectic on life force and a Derridean determination to bring opposing meanings into one circuit. We talk a bit about his practice, his refusal to submit to the end of the world, and of course… soccer.
Ph: Could you tell me a little about your firm, your practice, how you got started?
Bucci: I finished school in '87 and started work in my own office in '89. I've worked with different groups of architects but have always taken part in our own office. In general, we are working on small projects, small houses in the Brazilian context. We became well-known early on because we won an important competition in 1991, to build the Brazilian pavilion in the Expo in Seville, in 1992. It was work we did not end up building, but the competition was published in a lot of different outlets. I was 27 years old at the time. After that I was invited to teach abroad in the US and Italy on occasion, and had the opportunity to open studios in Portugal or Ligurno (Switzerland) but opened in Sao Paulo. I should mention that since the beginning I have been splitting my practice between the firm and the university. I started to teach in 1990, a year after opening my office, but I never stopped teaching. And though I have taught in different universities–I was teaching last semester at Yale, this coming semester at ETH In Zurich–I've been based in Sao Paulo since 2000, at the University of Sao Paulo, where I'm a tenured professor.
As a professor and academic, what do you think is different about architecture as an academic field versus as a professional practice?
Of course there are important differences but I should mention that I teach studios, so it is completely focused on architecture. As an activity, what we do here in our professional studio and in the academic studio is very similar. The most crucial difference is that in the university we can go further, because there aren't the same kinds of limitations that we generally have in our everyday office. And not just cost considerations, either. It's about what we can imagine or develop as a language; the time we can spend on a project. I think the university has a kind of freedom that is hard to have in an office but I tend to consider both are complementary. Because on the other hand, in the university it's important to link with everyday aspects of the office. Design is often shaped by politics, infrastructure, economical issues… The proposition is physical, that we have to be very engaging in a very specific context. So I think both have to be very complementary.
It's interesting you mention context and how that figures as a structure for design because of all our architects you have written the most metaphorically about design and have talked at length about the thoughts and emotions involved in seeing architecture. You're very fond of metaphors but do you view architecture itself as one?
Yes of course I think that we're always talking about this relationship or metaphor, but basically how meaningful can the process of design be? One thing that interests me is that we always think about universities being theoretical or practice-based. We are always talking about rules, or positions on rules, about technician or about the norms or previous experiences and technology. But there's a third issue that's important to talk about: meaning and symbolic reason. How meaningful can the process of design be? Why do we design one thing or another? I think the way we talk about image or imagination dismisses these issues. Maybe to be in both academic and professional fields at the same time is helpful in considering these issues that aren't exactly in one or the other field. I don't think we talk enough about the symbolic meaning when we are working in the university and even less when we are working in an office.
Are you suggesting there isn't enough self-reflection or thought into symbolism in either academia or professional arenas?
I think the academic practices tend to be better about this, as a field. We have more space for reflection, but at the same time the activity at universities, while feverish and active, are not necessarily profound.
What do you seek to achieve in a work like Paperhouses, for yourself, and for Brazil as a context of architecture.
Why to take part of it? Because I believe that Joana Pacheco is doing a serious work, that her initiative deserves our support.
The Paperhouses initiative is an intent to expand our possibility of dialogue, or better, it adds a new circle of dialogue for architecture. More than a publication, it brings the possibility of sharing construction drawings. For an architect it will be rich and vast as an archive. For a potential end-user it will be a broad range of possibilities. It also brings some new challenges: [1] how construction drawings can be shared as imprecisely and precisely addressed drawing? Maybe, this new circle of dialogue will make us think about the boundaries between the universal and the specific in the process of designing a project. [2] Should we dismiss local or regional possibilities in order to produce construction drawings suitable to be used globally. One hand, I tend to believe that we should put attention and protect local resources and possibilities, because it means a more rich world in cultural terms. In the other hand, I believe that by sharing construction drawings, even those which were addressed for a very specific context, we will be sharing knowledge.
How did you approach contextualizing your design for Paperhouses, given that there is not a specified end-user but rather an open community of future home-owners?
A complete project is quite a complex system of instructions and informations.
How will the end-user make their choices in Paperhouses? By the general representation of a project as a prospective? Or by studying very carefully all the construction drawings? I tend to believe in the first alternative. Besides, I believe that the major part of the non-specific construction drawings achieved on-line will be replaced or discarded during the actual construction process placed in a specific context. How much and which kind of information is really effective to inform an end-user in this process? Would extra information help or hinder decision-making? I think that as soon as the non-specific end-user makes a choice for a project, immediately right after that choice they will became a perfectly specified named person. The number of actions required to turn those construction drawing into a building, is so large and complex that it is not possible to be exactly reproduced. I mean, if we change one single worker in the construction site, the result will be some different. More or less in the same way that a symphony score cannot be played twice in the same way even by the exactly same orchestra.
What do you think is the mission of an architect, vis-à-vis society or the universe?
(Guffaw) the universe. Ha
I think that our mission is to be able to talk about this meaning. Of course we build this physical world… If we think in archaeological terms, everything we have is what remains as physicalities we built to testify our society. We can describe how people lived just through those cues. Think about using everything we build today to describe our history: our past as well as our future. If you look at certain buildings, you'll see a very hard future for us. Some buildings were built anticipating the end of the world. But we can resist this possibility, this threat. Everything we build is a clue for a future or a description of a history. The kind of projects we manage to propose, manage to design are things that we experience every day in our lives in the city like Sao Paolo. It is very clear that we can arrange in a different way all those legacies that we have. The way to build a better or worse world.
Casa em Ubatuba, by SPBR Arq.
You mentioned buildings that signify the end of the world or bleak future and architecture has the ability to resist the end of the future, but what do you think is architecture that enables a better future? What engenders a worse future?
One thing for us… it's a very Brazilian context perhaps, or at least a Brazilian way to look at the world, but one very important or clear or symptomatic aspect is our capacity to make better public spaces. This is very important. Most important in a country like Brazil. This means of course that both dimensions are (equally important) to our existence: the intimate space but also public space. The way we elaborate what we think in the intimate space is important to define the way we interact with others in our public existence.
So two questions to follow up on that: 1) the changing demography, and 2) your thoughts specifically on mega events like the World Cup and the Olympics. First, with population change, I've read that the Brazilian household only 30 years ago had an average of five children and now the average household bears only two children.

It depends. The numbers can change in different parts of the country and even change according to different neighborhoods in the city. More and more of our population is living in cities now, and no longer in the countryside. One important thing to Brazil is that we are living in a more democratic process. Thirty years ago we were under a dictatorship. I think the numbers show that social inequality, social distance is now much less than it was thirty years ago. But in a city like Sao Paulo, in the last twenty, thirty years, we've stopped growing. It's not as crazy as it used to be in the 40s to 60s. When we think about our city one dramatic thing was that we didn't have infrastructure to support the growth of the city. The city was growing but we didn't have public transportation, or developed sewage systems or drainage, so we experienced a lot of problems like flooding. But now after 30 years with the growing rate much less than it used to be of course we are more and more able to develop infrastructure of city, and the city tends to be much better for it. I think we can develop infrastructure not just in the city but in the whole country because we can design or plan how each different region of the culture can be developed or grown. This I think is very important. It's important to have a condition or pre-condition that allows you to make a blend of how to develop the country. This is something I'm very optimistic about.
As for the World Cup and Olympic Games, what makes it bad for architecture in Brazil is that the games were not brought in with a plan to develop future activity, culture. It's great to have the World Cup here but it's just been a business. We didn't have a single local competition for public works. The process was completely un-democratic.
As you know, soccer is nothing new in Brazil (laughter). We have a lot of championships and huge stadiums, so we wouldn't have needed to do too much to accommodate. I don't know exactly why a stadium in Brazil has to have the same standards as in Europe. I mean it is a different place, different climate, conditions, but you can have 100 thousand people in the stadium, and it's not a problem. I found it so crazy that there was no competition, and a lot of very important stadiums were completely dismissed in the process. We have the most beautiful stadiums here in Brazil. For example, the stadium designed by Paulo Mendes da Rocha, who won a Pritzker prize, won't take part in the World Cup!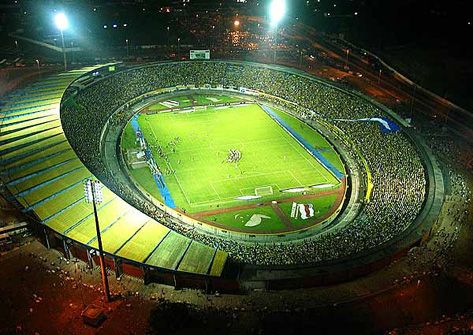 Two of the most important stadiums we have are the one designed by Paulo Mendes da Rocha is in Goiânia, Goiás, the Serra Dourada Stadium (pictured), and a stadium here in Sao Paulo that is by far the most important in the city (Estadio do Morumbi), designed by João Vilanova Artigas, the founder of our architecture school. An architect that is very important to the country, and the other that is a public stadium that is the most well-known or for sure the most well-located beautiful geographical situation. Both of them were completely dismissed to build a new stadium far away. It's a nonsense process. If we look at this project as an architect or anyone thinking about the city and how to improve the infrastructure or life in the city, here in Brazil, I'm sure you'll see we're going to miss all the opportunities. I don't think that is a good process for architecture. I think that's actually a bad process. The result is we are going to be worse than we were before.
You actually see the World Cup as regressive.
Yeah, in a way. But I should mention, I don't think having one more stadium is the problem. I think that the kind of activity that this process boosts, is not in our favor. I think this will feed a corrupt process… they don't work in our favor.
Since you've been teaching for so long, how would you educate the Brazilian public to become more engaged with its infrastructure? With all the social unrest and protests now, do you as an educator feel responsibility for future generations in terms of designers of Brazil's infrastructure?
I tend to believe what is most important to talk about is developing architecture as a language. To be more aware of what we call beauty. We don't talk enough about "aesthetics" at the university or at work. Even if I take this word at face value, it's related to beauty, but if I look at this word as a pure science, able to put everything that has existed in the universe in relation to each other, how we can dismiss it? How can we dismiss this kind of approach or regard? I like to think about the design process of architecture or art as something we or each person engaged in the process works out in their own life by being alive. Because there are two styles of architecture in the world: one that is trying to make our future possible, and one which anticipates the end of the world. There are two kinds of architects: those who are alive, and those who act like they're dead. The latter are trying to reproduce the same few images. It's not exactly something we can say is living. To me, it's important to start each project as if we've never designed before… like it's the first time.
—
Angelo Bucci is the founder and principal of SPBR. What do you think of mega events like The World Cup and The Olympics? Let us know in comments below or on our Facebook page.