Design guru and RISD President John Maeda recommends 5 teaching tools for our "Back to School" week at Paperhouses Journal.
1. The Art of Critical Making: Rhode Island School of Design on Creative Practice. Rosanne Somerson (Editor), Mara Hermano (Editor), John Maeda (Foreword)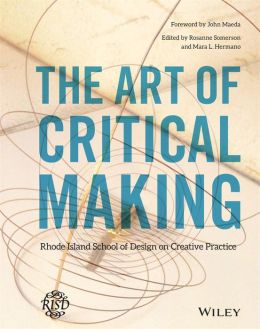 This volume is the first compendium of essays and interviews that spans the many educational personalities, values, and resources at the Rhode Island School of Design. The primacy of informed making coexisting within the same frame of critical thinking is what we dub as "critical making" at RISD.
2. From Lascaux to Brooklyn by Paul Rand
The last book by the iconic American master of corporate icons covers the same territory as his previous books, but with the most freed approach to visual layout, design history, and unguarded opinion. His opening dedication page says it all: "To my friends. And my enemies."
3. On Leadership by John Gardner
A book that speaks to the leadership in the macro social and political context of the 60s and 70s in a language that speaks as easily to the year 2013. In many senses, I think of John Gardner as the Paul Rand-like statesman of the organizational development field.
4. The C Programming Language, by Brian Kernighan and Dennis Ritchie

This book, when originally published, was roughly 120 pages long. It was deceivingly slim — and almost impossible to understand on its first, second, and third reading. Yet it persisted as the underlying high-level language of computing, which really hasn't changed significantly in three decades. Consider it Latin of the computer age — unimportant for daily use, but vital as a way to understand the nature of computing the same way that Latin grounds the English language.
5. MAEDA@MEDIA, by John Maeda

I made this so long ago that when I look at it I am unsure of who made it. It documents an era where I was deeply immersed in the computational aesthetic and in researching the directions in which art and design were likely to head. Now over a decade later, I can see that I got a lot of the thinking wrong — what I got right was the creation of the book itself. It can't be properly experienced in digital form, even though it is all about the digital world.

—
John Maeda is a leader who imagines how design can simplify technology and help leaders respond to new challenges in the era of social media. His work as a graphic designer, computer scientist, artist and educator earned him the distinction of being named one of the 75 most influential people of the 21st century by Esquire. In June 2008, Maeda became president of Rhode Island School of Design, and in late 2012, Business Insider named RISD the #1 design school in the world. At RISD, Maeda is leading the movement to transform STEM (Science, Technology, Engineering and Math) to STEAM by adding Art. Called the "Steve Jobs of academia" by Forbes, he believes art and design are poised to transform our economy in the 21st century like science and technology did in the last century. Maeda previously served as associate director of research at the MIT Media Lab. He serves on the boards of Sonos, Quirky, and Wieden+Kennedy, and on the Davos World Economic Forum's Global Agenda Council on New Models of Leadership. His books include The Laws of Simplicity, Creative Code, and Redesigning Leadership, which expands on his Twitter feed at @johnmaeda, one of TIME Magazine's 140 Best Twitter Feeds of 2012. Maeda received the AIGA Medal in 2010 and is in the permanent collection of the Museum of Modern Art.